Jeep Off-Roading
For the outdoor enthusiast, a Jeep is just plain fun. Whether you are off-roading or taking off for a weekend in the mountains, the Jeep is like an old friend that you can count on to get you there. However... it is important to know that Jeeps can be dangerous. But if you are a true Jeep-lover you probably will find yourself off-roading whenever possible, no matter the weather conditions and no matter the risk.
The most important thing you can do to increase your safety is to know how to drive the Jeep on a highway and in off-road conditions. This will familiarize you with the way the Jeep handles in all conditions and will, in turn, make your driving experience much more enjoyable for you and your companions. It's important to know what kind of terrain your particular vehicle can handle because there many different Jeep models out there. For instance, you typically would not want to take a
Jeep Liberty
off road because it is built low to the ground.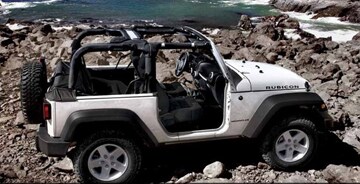 The best bet for off-roading is a
Jeep Wrangler
(
the Jeep Wrangler is pictured to the left
) because it's built higher from the ground and has more suspension. But if you have your heart set on the Liberty and can't stay away from the off-roading, you will be happy to know that many Jeeps can be customized. Just be sure to check with your dealer and tell them the type of excursions you will be planning on taking and ask very specific questions about the limitations of the vehicle.
Jeep Off-Roading / Tires
Many people that enjoy off-roading get their Jeeps equipped with large tires, creating a nice lift so they can drive in rugged terrains. When a Jeep is higher off the ground it can drive over a steep and rocky terrain and in the rain and snow. The larger tires also allow the Jeep to grip the ground better to tackle unexpected challenges. However, it is important to note when your Jeep has a higher lift it is a lot easier to flip the vehicle, especially if the body is built narrow and high, like the Liberty. And even though most Jeeps are equipped with a roll-bar, it is best to choose a vehicle that suits your lifestyle.
Taking courses can also help with familiarizing yourself with your Jeep because professionals are in the best position to supply you the most pertinent information. There is also a lot of information from a variety of reputable sources about Jeeps and Jeep safely that might provide you with the answers you need. You know the saying, "Knowledge is power." Well, it's true, and even more so if there is some risk involved.
So here is some more detailed information to keep your Jeep-knowledge up to speed:
Jeep Wrangler in Action
Make your Jeep Wrangler safer with their new conversion kit
For the Quintessential Off-Roader
And for you beginners that are looking to improve your basic Jeep-riding experience as well as improving confidence, check out these training venues:
Jeep 101: Test Drives & Off-Road Courses
Jeep School
Camp Jeep
So, if the Jeep-lover in you still feels the need to experience off-roading in any kind of conditions... what's stopping you? And if you live in the Boulder, Colorado area and are looking the for perfect Jeep to take you on your next trip, why not visit Valley Dodge in Boulder at
2100 30th Street (near the 29th Street mall
), and
check out this 2005 Jeep Wrangler by following this link
.